Totaldac + Bibacord, June 2015
In strong competition, our digital AES/EBU was selected by Totaldac as the preferred digital interconnect to be recommended to their customers. The construction of the AES/EBU has been fine-tuned to perfectly match the d1-dual and d1-twelve DAC. We have appointed Totaldac as our worldwide (except Sweden) retailer of the AES/EBU.
---
munich high end show 2015
Our system at the Munich High End Show 2015 was very much appreciated, presenting a relaxed and natural sound. The Kawero speakers from Kaiser Acoustics with a beautiful external crossover caught the eyes of many visitors. Two pairs of the Lars type 2 amplifier provided bi-amping driven by the Monica preamp from Engström & Engström. Totaldac showed their d1-server and d1-twelve DAC. The Kronos Sparta turntable with Helena tone arm was presented by Adagio Audio Consulting.
Read some impressions at 6moons and Stereophile.
---
Gothenburg hifi show 2014
At the Gothenburg HiFi Show in October, Bibacord played together with Vivid Audio Giya G1, Kronos Sparta turntable with Helena tonearm and Lyra Kleos, the Lars Type 2 and the Monica preamplifier, EMM Labs DAC2X and TSDX transport. A nice sounding system indeed!
---
Hi-Fi Award, July 2014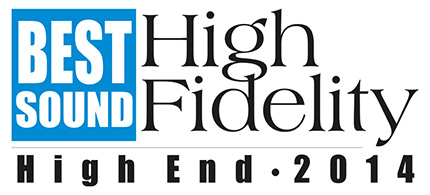 Bibacord has received a Best Sound award from the online magazine "High Fidelity".
Read some impressions from the Munich High End 2014 published in High Fidelity.
---
chiara + bibacord, June 2014
The first ever Kaiser Chiara speaker with a complete set of Bibacord internal wiring has been delivered to a customer. This is the speaker that was demonstrated at the Munich High End Show.
Inside the speaker stand there is a curved channel containing a special version of our new speaker cable. It is build like a "spinal cord", with blocks of balsa wood that keep the individual wires perfectly damped mechanically.
This is completely on par with the extreme measures taken in the design of the Chiara for eliminating structural vibrations. From the crossover run two individually optimized cables to the tweeter and bass-mid driver.
The resulting sound is quite unbelievable. For more information, please contact us. It may be possible to arrange for an audition in Stockholm.
---
munich high end show 2014
The Munich High End Show in May 2014 was really an exciting event. We had the great honor of exhibiting together with Kaiser GmbH, playing on their Kawero Classic and Chiara speakers. The other partners of the team were Totaldac and Engström & Engström.
We showed our new Bibacord speaker cable and the new digital AES/EBU interconnect. Totaldac showed the new and unique d1-twelve DAC and d1-server, the sound of which was very impressive indeed. Engström & Engström contributed with the beautiful Lars Type 2 amplifier.
A big event was the presentation of a pair of custom-made Chiara speakers with a complete internal wiring made by Bibacord. In this way we had an unbroken chain of Bibacord cables, from the Totaldac d1-server to the speaker drivers. The sound was absolutely stupendous – shockingly good resolution, not only in spatial terms but also of tone color and timing cues.
Many visitors were stunned by the performance of the Chiara-Bibacord speakers. Especially interesting was the opportunity of a straight comparison between this re-wired Chiara and the substantially larger Kawero Classic (unmodified). This became a reminder of the tremendous importance of a super-quality internal wiring of speakers at this extremely high level of performance.
---
munich high end show 2013
Highly acclaimed by visitors was the cooperation at the Munich High End Show in May 2013 between Bibacord, Engström & Engström, Totaldac and Tune Audio. The combination of The Lars Type 2 amplifier, Tune Audio ANIMA and PULSE horn speakers, a complete d1-system from Totaldac (server + dual DAC + tube DAC) and Bibacord cables, was a great success.
---
stockholm hifi show 2013
At the Stockholm HiFi Show in February 2013, Bibacord cables were used together with Engström & Engström The Lars amplifier, Platinum DAC IV from MSB Technology and Tannoy speakers. Bibacord was also being used in another system with Valvet amplifier, Totaldac DAC and Reference 3A speakers.